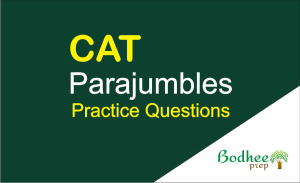 ---
CAT parajumbles questions are one of the most important scoring areas of CAT verbal ability. In fact, they are an important feature of other MBA entrance exams as well. Though there has been a slight change in the CAT pattern of Para jumbles, the approach to this question type more or less still remains the same. Aspirants often wonder where to practice CAT parajumbles questions without options (TITA para jumbles ).
Download CAT Parajumble Questions From Previous Years
Please Login to Download the PDF



We would suggest that they can refer to the questions that came in CAT 2017, or can study from the past year CAT papers. Some parajumbles questions with answers for practice are given below. But before you start with these, Learning tips and tricks of parajumbles for CAT in strongly recommended. For that, we would want you to go through this article on 'Tricks to solve parajumbles for CAT Exam'
However, instead of the article, you can go through these videos to get a conceptual grasp of parajumbles.
Understand the meaning of coherent paragraph: The CAT Parajumbles instruction says that you have to create a coherent paragraph. For that, you must understand the meaning of a coherent paragraph. Please go through this video
Understanding the structure of a coherent paragraph: You should know how a coherent paragraph looks different from an incoherent paragraph. An incoherent paragraph is not the one in which there are grammatical errors, but the one in which the paragraph is not completely meaningful because something more is required to make it meaningful. In other words, you need some additional information to create coherence. Please go through this video
Understand the application of the definite article 'The': Understanding the use of the definite article 'the' could be of great help in connecting sentences. This might sound strange but the definite article is one of the most frequently used tools to connect sentences. This video will illustrate that.
Understand the importance of pronouns: Like the definite article 'the', the pronouns too can be used effectively to connect two or more sentences. Understanding the various pronoun rules will help you in this. Please go through this video
Understand the difference between generic idea and specific ideas: Generic ideas are those that have a broad range and scope, while specific ideas are those that have a narrow range and scope. For instance, economy is a generic idea, whereas 'industrial sector' is a specific idea. In CAT parajumbles, broad ideas come first followed by specific ideas, which usually come later. The video demonstrates this clearly.
Understand the magnitude of ideas: By magnitude we mean ideas that are of greater importance. Important ideas or ideas that are of greater significance must come first, followed by ideas of lesser significance. It is difficult for us to understand this concept in theory. In the video below we have demonstrated how important ideas take precedence over less important ones
Understand the application of sentence connectors: Adverbs such as however, moreover, additionally add two or more sentences. There is always a logical connection between such sentences, and these sentence connectors bring out that logical connection. These sentence connectors can be used effectively to connect different sentences of a paragraph. To see how please watch this video
Understand how adverbs connect sentences: Though sentence connectors too are adverbs, the adverbs that we have mentioned here don't connect sentences, they instead show some reference of one sentence to some other sentence. The video illustrates this.
Understand chronology of ideas: This is a very important tool that you can use to connect two different sentences. The cause-effect relationship, the logical progress relationship of different acts can be used to connect independent ideas. This video will help you understand this concept
Understand concluding ideas: Though concluding ideas usually come at the end of the paragraph, this may not always be the case. There are a number of CAT parajumbles question that have a concluding sentence featuring in the middle of the paragraph. You can watch this video to better understand this principle.