Question 21:
A. But all these latter-day pamphlets, good as they are, fail to reach the excellence of Bob, Son of Battle. It is the best dog story ever written, and it inspires regret that dogs cannot read.
B. During the last half-century, since the publication of Dr. John Brown ' s Rab and his Friends (1858), the dog has approached an apotheosis.
C. One of the most profoundly affecting incidents in the Odyssey is the recognition of the ragged Ulysses by the noble old dog, who dies of joy.
D. Among innumerable sketches and stories with canine heroes may be mentioned Bret Harte ' s brilliant portrait of Boonder; Maeterlinck ' s essay on dogs; Richard Harding Davis ' s The Bar Sinister; Stevenson ' s whimsical comments on The Character of Dogs; Kipling ' s Garm; and Jack London ' s initial success, The Call of the Wild.
[1] CABD
[2] CDBA
[3] CDAB
[4] CBDA
---
Get 200 Parajumbles Problems with VIDEO Explanations
---
---
Question 22:
A. Sceptics are warned to remain silent, lest they become unpleasantly conspicuous.
B. When Lady Rose ' s Daughter appeared, the critic of a great metropolitan daily remarked that whoever did not immediately recognise the work as a masterpiece thereby proclaimed himself as a person incapable of judgement, taste, and appreciation.
C. It is high time that somebody spoke out his mind about Mrs. Humphry Ward; her prodigious vogue is one of the most extraordinary literary phenomena of our day.
D. Even professional reviewers lose all sense of proportion when they discuss her books, and their so-called criticisms sound like publishers ' advertisements.
E. A roar of approval greets the publication of every new novel from her active pen, and it is almost pathetic to contemplate the reverent awe of her army of worshippers when they behold the solemn announcement that she is "collecting material" for another masterpiece.
[1] CBADE
[2] CEDAB
[3] CDABE
[4] CEBDA
---
Get 200 Parajumbles Problems with VIDEO Explanations
---
---
Question 23:
A. The lack of charm that I always feel in reading Mrs. Ward ' s books (and I have read them all) is owing not merely to the lack of humour. It is partly due to what seems to be an almost total absence of freshness, spontaneity, and originality.
B. Mrs. Ward works like a well-trained and high-class graduate student, who is engaged in the preparation of a doctor ' s thesis.
C. Her discussions of socialism, her scenes in the House of Commons and on the Terrace, her excursions to Italy, her references to political history, her remarks on the army, her disquisitions on theology, her pictures of campaign riots, her studies of defective drainage, her representations of the labouring classes,—all these are "worked up" in a scholarly and scientific manner; there is the modern passion for accuracy, there is the German completeness of detail,—there is, in fact, everything except the breath of life.
D. She works in the descriptive manner, from the outside in—not in the inspired manner which goes with imagination, sympathy, and genius.
E. She is not only a student, she is a journalist; she is a special correspondent on politics and theology; but she is not a creative writer, or she has the critical, not the creative, temperament.
[1] ECDAE
[2] CBDAE
[3] ABCDE
[4] DCAEB
---
Get 200 Parajumbles Problems with VIDEO Explanations
---
---
Question 24:
A. His popularity with the general mass of readers has been sufficient to satisfy the wildest dreams of an author ' s ambition; and his fame is, in a way, officially sanctioned by the receipt of honorary degrees from McGill University, from Durham, from Oxford, and from Cambridge; and in 1907 he was given the Nobel Prize, with the ratifying applause of the whole world.
B. There is no indication that either the shouts of the mob or the hoods of Doctorates have turned his head; he remains to-day what he always has been—a hard, conscientious workman, trying to do his best every time.
C. He has not yet attained the age of forty-five; but his numerous stories, novels, and poems have reached the unquestioned dignity of "works," and in uniform binding they make on my library shelves a formidable and gallant display.
D. Mr. Rudyard Kipling is in the anomalous and fortunate position of having enjoyed a prodigious reputation for twenty years, and being still a young man.
E. Foreigners read them in their own tongues; critical essays in various languages are steadily accumulating; and he has received the honour of being himself the hero of a strange French novel.
[1] DCEBA
[2] DCEAB
[3] DABEC
[4] DECAB
---
Get 200 Parajumbles Problems with VIDEO Explanations
---
---
Question 25:
A. It is pleasant to remember, however, that in these early years he translated Vergil ' s Georgics; combining his threefold love of the classics, of poetry, and of gardening.
B. Like many successful novelists, Mr. Blackmore began his literary career by the publication of verse, several volumes of poems appearing from his pen during the years 1854-1860.
C. Of how much practical agricultural value he found the Mantuan bard, we shall never know.
D. Although he never entirely abandoned verse composition, which it was only too apparent that he wrote with his left hand, the coolness with which his Muse was received may have been a cause of his attempting the quite different art of the novel.
[1] BDAC
[2] BDCA
[3] BCAD
[4] CDAB
---
Get 200 Parajumbles Problems with VIDEO Explanations
---
---
Questions with Explanations
Past CAT Parajumbles Questions
---
What Students Say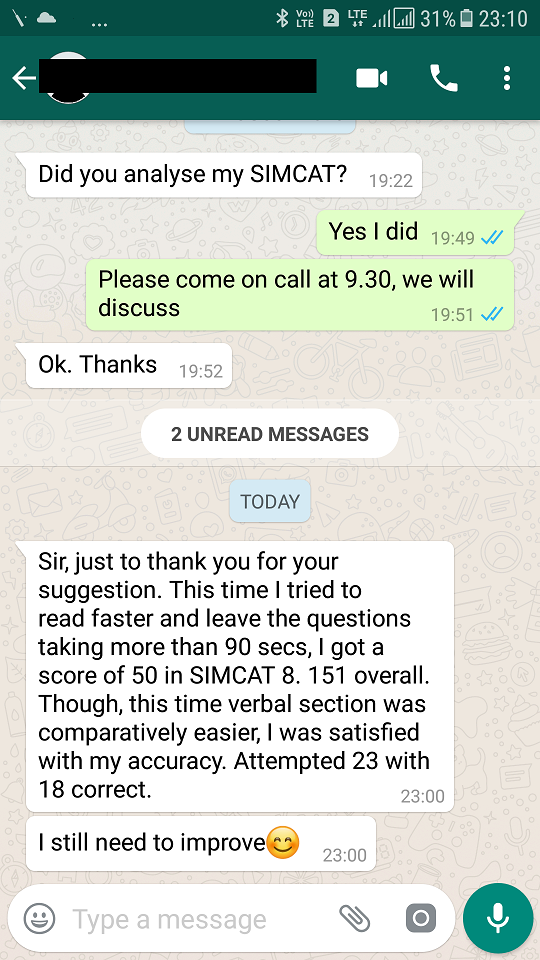 ---
---