Question 16:
A. A man who teaches political economy and sociology must read the most recent books on these themes both in Europe and America—nay, he must read the newspapers and study the markets, or he will be outstripped by his own pupils.
B. And yet, when the teacher of literature devotes a small portion of the time of his pupils to the contemplation of contemporary poets, novelists, and dramatists, he is not only blamed for doing so, but some teachers who are ignorant of the writers of their own day boast of their ignorance with true academic pride.
C. A man who teaches drawing and painting should not only know the history of art, but its latest developments.
D. A man who teaches physics and chemistry is supposed to be familiar not only with the history of his subject, but its latest manifestations; with the work of his contemporaries.
[1] DCBA
[2] DACB
[3] CBAD
[4] ADBC
---
Get 200 Parajumbles Problems with VIDEO Explanations
---
---
Question 17:
A. If we are to imitate them, let us imitate their virtues and not their defects, even though the task in this case may be infinitely more difficult.
B. The reason why French plays and French novels are generally superior to American is not because they are indecent; and we shall never raise our standard merely by copying foreign immorality.
C. They excel us in literary style.
D. The superiority of the French is an intellectual and artistic superiority.
[1] DBCA
[2] DCBA
[3] BDCA
[4] BCAD
---
Get 200 Parajumbles Problems with VIDEO Explanations
---
---
Question 18:
A. The personality of Mr. Howells, as shown both in his objective novels and in his subjective literary confessions, is one that irresistibly commands our highest respect and our warmest affection.
B. He has had more influence on the output of fiction in America than any other living man.
C. It is exceedingly fortunate for America that such a man has for so many years by common consent, at home and abroad, been regarded as the Dean of American Letters.
D. A simple, democratic, unaffected, modest, kindly, humorous, healthy soul, with a rare combination of rugged virility and extreme refinement.
[1] ADCB
[2] ABCD
[3] ACDB
[4] ACBD
---
Get 200 Parajumbles Problems with VIDEO Explanations
---
---
Question 19:
A. Perhaps it is tacitly assumed that those who become captains of industry achieve prominence without divine assistance;
B. Born in a little village in Ohio over seventy years ago, and growing up with small Latin and less Greek, Mr. Howells may fairly be called a self-educated man.
C. Just why the epithet "self-made" should be applied to those non-college-graduates who succeed in business, and withheld from those who succeed in poetry and fiction, seems not entirely clear.
D. whereas men of letters, with or without early advantages, and whether grateful or not, have unconscious communication with hidden forces.
[1] CADB
[2] CBAD
[3] BADC
[4] BCAD
---
Get 200 Parajumbles Problems with VIDEO Explanations
---
---
Question 20:
A. Had Lorna Doone appeared toward the end of the century, when the Romantic Revival was in full swing, it would have received a royal welcome.
B. Possibly one of the reasons why Lorna Doone made so small an impression was because it appeared at an unpropitious time.
C. These two novelists were in full action; and they kept the public busy; realism was strong in the market; people did not know then, as we do now, that The Cloister and the Hearth was worth all the rest of Charles Reade put together.
D. The sower sowed the seed; but the thorns of Reade and Trollope sprang up and choked them.
[1] ABCD
[2] BCDA
[3] BDCA
[4] DCBA
---
Get 200 Parajumbles Problems with VIDEO Explanations
---
---
Questions with Explanations
Past CAT Parajumbles Questions
---
What Students Say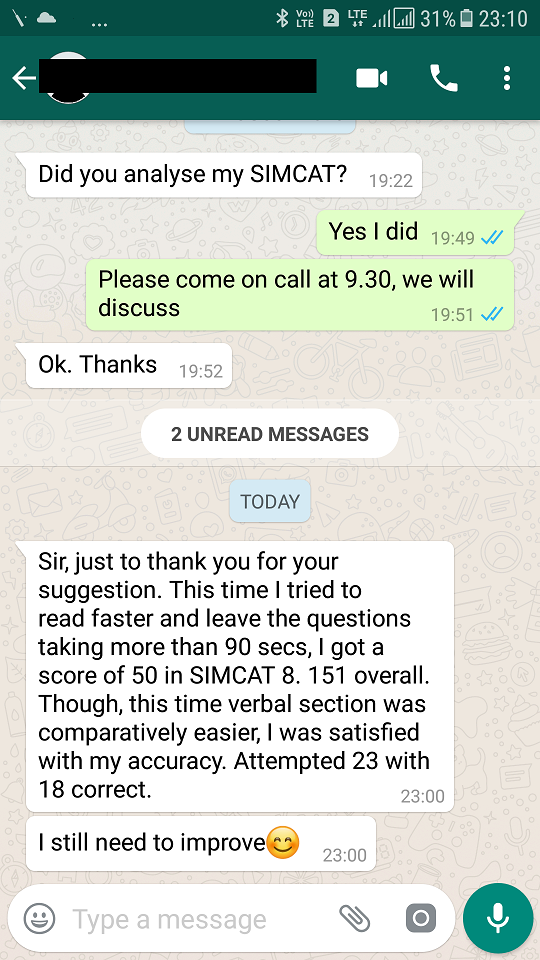 ---
---