Question 6:
A. In closed texts, the murderer is found, the mystery resolved, the ghost exposed as a mechanical illusion, or the lovers are able to consummate their love.
B. In a moment, we shall say something that may be rather shocking.
C. The Italian novelist and literary theorist Umberto Eco uses the term ' closed texts ' for such narratives, as contrasted with ' open texts ' which leave the reader in doubt or uncertainty.
D. In the meantime, we propose to describe two kinds of suspense, resolved and unresolved.
E. ' Resolved ' suspense is usually associated with thrillers, detective stories, gothic novels, tales of mystery and the supernatural, and romances.
[1] CEDBA
[2] EBCDA
[3] AEBCD
[4] BDECA
---
Get 200 Parajumbles Problems with VIDEO Explanations
---
---
Question 7:
A. We may talk about things we enjoy in a work of literature – the gripping narrative, the appealing characters, the power of the language, the comedy and pathos – but we do not very often talk about the enjoyment itself, about what enjoyment or pleasure is.
B. There are at least two reasons for this; in the first place, pleasure, enjoyment, emotional and indeed erotic excitement are extremely difficult, or even impossible, to talk about; secondly, and no doubt related to this, such pleasures tend to border on the transgressive or taboo.
C. Whether in a seminar or at the pub, often the first thing that gets asked about a book is: Did you enjoy it?
D. This is not just a way of making conversation, but also suggests the fundamental importance of pleasure when it comes to reading.
E. In fact, the question ' Did you enjoy it? ' far from breaking the ice and starting a passionate discussion, is generally followed by a terse ' Yes ' or ' No ' and then forgotten.
[1] CEDBA
[2] CDEAB
[3] CDEBA
[4] ABCDE
---
Get 200 Parajumbles Problems with VIDEO Explanations
---
---
Question 8:
A. These renamings of Presley and Clapton, then, involve the kind of exaggeration or verbal extravagance known as hyperbole.
B. They may believe that his guitar-playing is transplendent, but even those whose judgement is blurred by an unholy mixture of illegal substances and Clapton ' s heavenly guitar solos are unlikely to take him for the Almighty Himself.
C. No one, not even the most loyal of fans, believes that Eric Clapton created the world in six days and rested on the seventh.
D. No one supposes that the United States has become a monarchy and put Elvis Presley on the throne.
E. But the force of these acts of renaming depends on the assumption that no one takes them literally.
F. It ' s not for nothing that they call Elvis Presley ' The King ' and Eric Clapton ' God ' .
[1] FEDCBA
[2] CDEFAB
[3] FEABCD
[4] DCABFE
---
Get 200 Parajumbles Problems with VIDEO Explanations
---
---
Question 9:
A. In fact, creative writing appears to have been institutionalized, in more than one sense of that word, since the incorporation of ' creative writing courses ' within educational institutions is inevitably a form of appropriation and control.
B. Definitions, as we know, are never ' merely academic ' : they are forms and conduits of power.
C. As the deceptive simplicity of the OED definition is perhaps beginning to make clear, ' creative writing ' has a strange relation to the academy and to the academic.
D. We might note one further intriguing detail in this dictionary definition, namely the scare quotes around ' academic ' .
E. ' Creative writing ' , this might suggest, is both ' academic ' and non-academic.
[1] ACBDE
[2] CBDAE
[3] BDECA
[4] DBCEA
---
Get 200 Parajumbles Problems with VIDEO Explanations
---
---
Question 10:
A. The very phrase ' the text and the world ' , however, immediately presents a questionable distinction: its very formulation presupposes a difference between a text on the one hand and the world on the other.
B. All of these ways of thinking about literary texts start from an assumed separation of the literary work, the text, from the world.
C. The relation between literary texts and the world has been a central problem in criticism and theory at least since Plato banished poets from his imaginary Republic for allegedly misrepresenting the world.
D. This distinction is, of course, a very common way of thinking about literature: it is implicit in a certain understanding of mimesis or imitation, and in notions of realism and naturalism, and of representation, as well as in metaphors which figure literary texts as offering a window on to the world or (in Hamlet ' s words) as holding a mirror up to nature.
E. They imply that a literary text is not, in essence, part of the world.
[1] CDBAE
[2] CABDE
[3] CBDAE
[4] CADBE
---
Get 200 Parajumbles Problems with VIDEO Explanations
---
---
Questions with Explanations
Past CAT Parajumbles Questions
---
What Students Say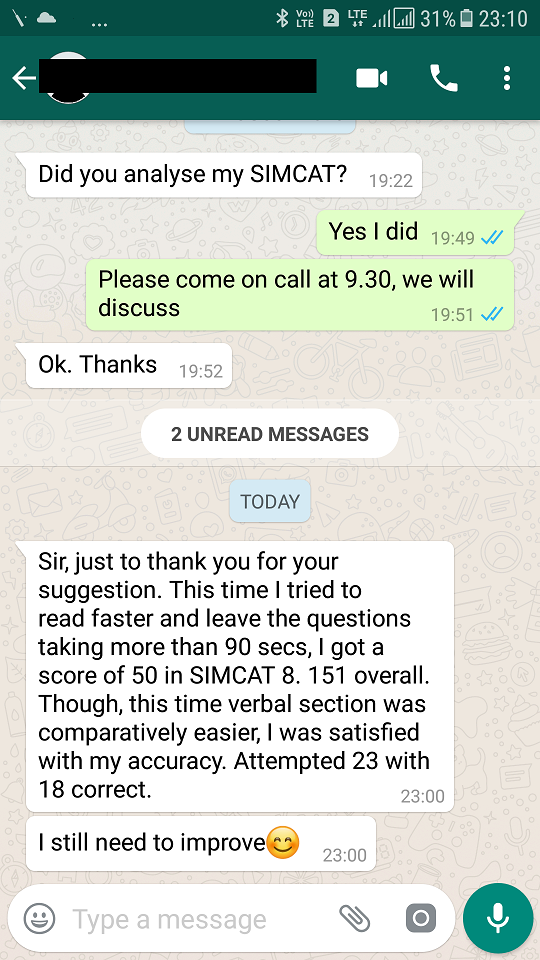 ---
---