Question 1:
A. Literature is uncanny. What does this mean? To try to define the uncanny is immediately to encounter one of its decisive paradoxes, namely that ' the uncanny ' has to do with a troubling of definitions, with a fundamental disturbance of what we think and feel.
B. The uncanny is not just a matter of the weird or spooky, but has to do more specifically with a disturbance of the familiar.
C. The uncanny has to do with a sense of strangeness, mystery or eeriness.
D. More particularly it concerns a sense of unfamiliarity which appears at the very heart of the familiar, or else a sense of familiarity which appears at the very heart of the unfamiliar.
E. Such a disturbance might be hinted at by way of the word ' familiar ' itself.
[1] ABCDE
[2] ACDEB
[3] ACDBE
[4] ACEDB
---
Get 200 Parajumbles Problems with VIDEO Explanations
---
---
Question 2:
A. But in each of these exchanges we are also presented with a kind of strangeness as well: in the context of Eliot ' s novel, for example, we may reflect on the irony of the fact that what the mother recognizes in her children, what it is in their voice that confirms the persistence of their identity, is something that cannot be heard, a lisp perceived only by the mother.
B. In both of these examples we have what appear to be confirmations of the persistence of identity, expressed in the singular or peculiar nature (the ' trick ' ) of a person ' s voice.
C. Nothing is stranger, or more familiar, than the idea of a voice.
D. In George Eliot ' s Daniel Deronda (1876), a character called Mrs Meyrick observes that ' A mother hears something like a lisp in her children ' s talk to the very last ' .
E. In Shakespeare ' s King Lear (1605), the blinded Gloucester recognizes Lear from his voice: ' The trick of that voice I do well remember;/ Is ' t not the King? ' .
[1] CDEBA
[2] DECAB
[3] DECBA
[4] CDEAB
---
Get 200 Parajumbles Problems with VIDEO Explanations
---
---
Question 3:
A. Charlotte Bronta? ' s Jane Eyre (1847) is one of the classic nineteenthcentury novels in English.
B. It describes a love affair between the eponymous heroine, a governess, and her aristocratic master, Rochester.
C. The novel ends with the marriage of Jane and Rochester after Jane has become both professionally and economically independent.
D. Jane ' s struggle for independence marks the novel as centrally engaged with the oppression of women in nineteenth-century England and with the possibility of their liberation from constricting roles of subservience to their male ' masters ' .
[1] ACDB
[2] ACBD
[3] ABDC
[4] ABCD
---
Get 200 Parajumbles Problems with VIDEO Explanations
---
---
Question 4:
A. In the Preface to this book we remark that theory – particularly when it takes the form of isms – can seem intimidating or simply boring; deeply desiring to be neither, we also have good theoretical reasons for feeling wary of isms.
B. Colonialism, postcolonialism, neocolonialism: three isms that depend upon the figure of the colony.
C. As Martin Heidegger put it: ' Every mere ism is a misunderstanding and the death of history ' .
D. But saying this of course does not make isms go away; isms are convenient, as well as deadly.
E. This assertion draws attention to the ways in which isms inevitably encourage generalization, abstractness, a lack of critical clarity and of historical awareness.
[1] BAEDC
[2] BACED
[3] ABCDE
[4] ACBDE
---
Get 200 Parajumbles Problems with VIDEO Explanations
---
---
Question 5:
A. This is what is implied by the term ' consumer-fiction ' : to read a novel is to consume it; if a good novel is like a good meal, some novels are no doubt easier to chew and swallow than others.
B. They are looking for a good story line – something to get their teeth into on a long train-journey, for example, something which has a strong sense of what Kermode calls ' narrative sequence ' .
C. Most people, according to Kermode, read novels in the hope of reading something that adds up to a complete whole – a story with a clear structure and ' message ' .
D. In an essay entitled ' Secrets and Narrative Sequence ' , Frank Kermode writes: ' To read a novel expecting the satisfactions of closure and the receipt of a message is what most people find enough to do; they are easier with this method because it resembles the one that works for ordinary acts of communication ' .
E. Why do we read works of literature? What do we hope to get out of reading a novel, for example?
[1] EDCBA
[2] CDEBA
[3] CDBAE
[4] DCEBA
---
Get 200 Parajumbles Problems with VIDEO Explanations
---
---
Questions with Explanations
Past CAT Parajumbles Questions
---
What Students Say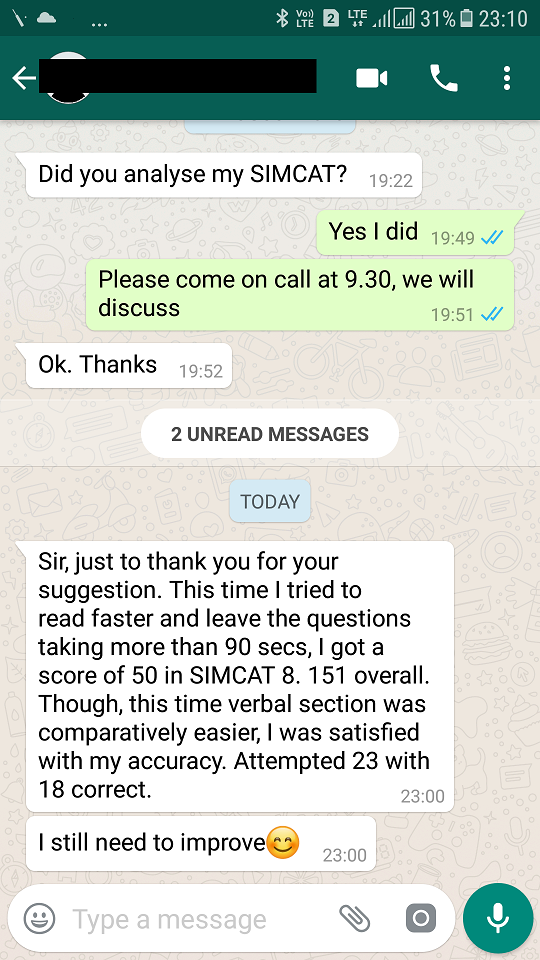 ---
---